ne quid nimis
Monday, 16 February 2009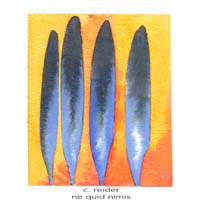 –
C. Reider – ne quid nimis (a diary of tentative ambient drafts)
–
Vuzh Music
offers a free download of primitive ambient / experimental quiet-noise with a DIY aesthetic, utilizing uncommon sound makers such as scrap metal, music boxes, polished stones, destroyed compact discs and circuit bent electronics.
–
Originally recorded on 4 track from 1992-1996 and released in 1996 on AudioFile Tapes, this piece of early work from experimental musician C. Reider has been remixed for re-release on the internet.
–
FOLLOW THIS LINK to the release page
–
Page features 224 VBR mp3 files and a streaming player.