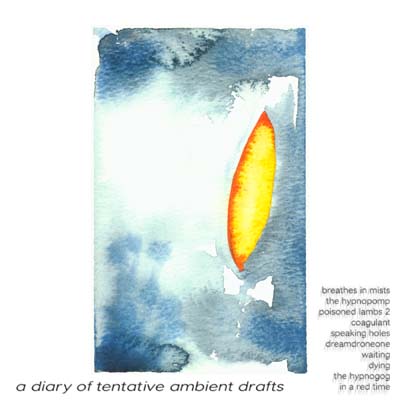 breathes in mists
Sunday, January 28, 1996 --- Malfunctioning Alesis SR-16, hand turned music box, guitar, Trigon Incantor (built by Q.R. Ghazala).

the hypnopomp
Sunday, November 13, 1994 --- Guitar, bass guitar, Casio PT-1, cabinet door, water pot, cast iron woodstove, purr mechanism from a plush cat toy, circuit-bent electronics.

the poisoned lambs 2
Saturday, January 27, 1996 --- Bass guitar, scrap iron, malfunctioning Alesis SR-16

coagulant
Wednesday, April 20, 1994 --- Scrap iron and aluminum

the speaking holes
Monday, February 28, 1994 --- Polished stones

dreamdroneone
Tuesday, March 1, 1994 --- Re-tuned music box, destroyed compact discs, fan

waiting
Saturday, January 27, 1996 --- Destroyed and abused compact discs

dying
Saturday, July 18, 1992 --- Guitar

the hypnogog
Sunday, November 20, 1994 --- Tapes (the voice of Bob Enyart), bass guitar, guitar, nose whistle, fabric

in a red time
Friday, April 15, 1994 --- Voice, guitar, tin can

Thanks to:
-Carl Howard, who originally released this on cassette on his label AudioFile Tapes.
-Karin A. Feltzing, who painted the cover art.
-Richard Hodges, who lent effects pedals, shelter and mixing equipment.
-Erinn Thorp, who engineered and recorded "dying" and played guitar with me on it as well.